By Xinhua
NAIROBI, Sept. 29 (Xinhua) — In the Kenyan capital of Nairobi, traders from across the country converge at a shopping district known as Nyamakima, which houses the largest shop network of electronic and electrical products imported from China.
Shopkeepers here import commodities in bulk from China, then sell them to other traders, sending parcels via bulk couriers to all parts of the country including to the neighboring countries of Uganda and South Sudan. What is, however, most noticeable in nearly all these shops are solar floodlights displayed prominently.
Mohamed Yusuf, a shop owner along Duruma Road in the Nyamakima area, explained the phenomenon to Xinhua during a recent interview.
"There are likely two reasons why demand for solar floodlights has increased tremendously in recent times. One is that more Kenyans are building new homes on plots measuring 40 by 80 feet in urban areas. So they want those homes to have well-lit compounds and pathways for better utilization of the small space and better security," Yusuf said. "The other reason is that the cost of solar floodlights is dropping. Five years ago, a 200-watt solar floodlight would cost 100 U.S. dollars. It dropped to half of that price two years ago. Today, a similar one cost 30 U.S. dollars. Now, those of less wattage are even cheaper."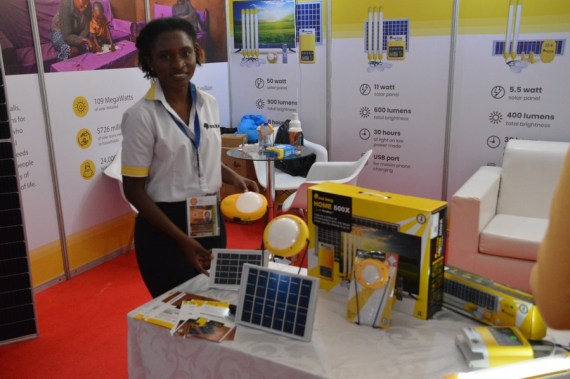 An exhibitor displays domestic solar products on the sidelines of the Africa Climate Summit 2023 in Nairobi, capital of Kenya, on Sept. 4, 2023. (Photo by Charles Onyango/Xinhua)
Yusuf specializes in selling solar floodlights manufactured by a Chinese company known as Itel. There are many other brands within the Nyamakima shopping district. He noted that the sales of solar floodlights increased 60 percent to 70 percent in the past two years. "It is a fast-moving product now," he said.
At Ruai Estate, a fast-growing residential and commercial suburb about 20 km east of Nairobi's central business district, Gerald Mutuma has installed three solar floodlights at his modern home. "One of my friends switched to solar floodlights for his compound. He advised me to do the same because he said they are cheaper to run in the long term and offer a better return on investment compared to those powered by electricity from the national grid. This is true because when I did my calculation, their return on investment was less than a year," Mutuma said.
He said that a single 200-watt mains electricity-powered floodlight consumes about one unit of electricity per night, costing 0.20 dollars per day or 6 dollars per month. Over a year, it would amount to about 72 dollars. "But I bought each of these for 30.4 dollars. It means in a year I will have recouped my investment twice on each piece. Still, this solar floodlight will last for at least three years or more. It has a warranty for one year already. I want to install the same in my rural home and also in my parents' home. This is a better deal by far. One other advantage with these solar lights is that they are waterproof and so even in places of constant rain, they last longer," Mutuma said.
In Kenya's e-commerce shops and on platforms such as Solar Store, Jiji, Mybigorder, and through individuals selling on their social media pages, solar floodlights are prominently advertised, indicating a growing demand for them. Consumers are becoming the main beneficiaries because competition among these sellers has led to a significant price reduction and an increase of brands in the market.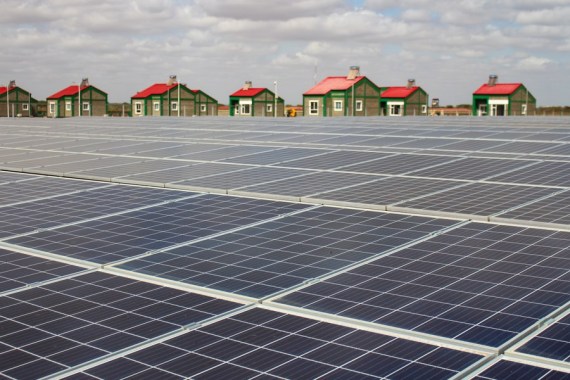 This photo taken on Nov. 11, 2018, shows the Garissa Solar Power Plant in northeastern Kenya. (Xinhua)
The growing demand for solar floodlights is reflective of similar demand in Kenya's appetite for solar lighting solutions, off and on-grid. For instance, installed capacity for solar to the national grid reached 210 megawatts this year, according to Kenya Power, with the commissioning of three solar farms in the Rift Valley town of Eldoret that have added a total of 120 megawatts into the grid, according to Tim Kipchumba, the chief executive officer of Questworks Kenya, the company that developed the projects.
This is in addition to massive off-grid solar lighting projects developed by both the government and the private sector. In August, Kenya Power issued a tender to replace all its diesel-powered off-grid power plants with mini-grid solar projects.
Various manufacturers and shopping malls have also installed rooftop solar power generation panels as a substitute for mains electricity. At the household level, many Kenyans are installing solar lighting solutions sold by pay-as-you-go vendors. ■