By Xinhua
GABORONE, Sept. 28 (Xinhua) — African countries cannot ignore the adoption of new technologies in research and development, said Botswanan Minister of Agriculture Fidelis Molao, who stressed the importance of establishing strategic collaborations aimed at enhancing resilience and increasing agricultural productivity.
Speaking on Tuesday at the 8th All Africa Conference on Animal Agriculture, scheduled from Sept. 26 to 29 in Gaborone, the capital of Botswana, Molao urged both organizers and participants to seize the opportunity presented by the conference to find solutions that can enhance food security in Africa.
Research and development are pivotal to improving livestock and poultry production, Molao said. He also emphasized the need for adequate funding of research and extension services in Africa to address the challenges facing the agriculture sector.
Molao said that according to the African Development Bank's 2022 report, most African countries allocate less than 1 percent of their gross domestic product to research and development, while the global average stands at 1.7 percent.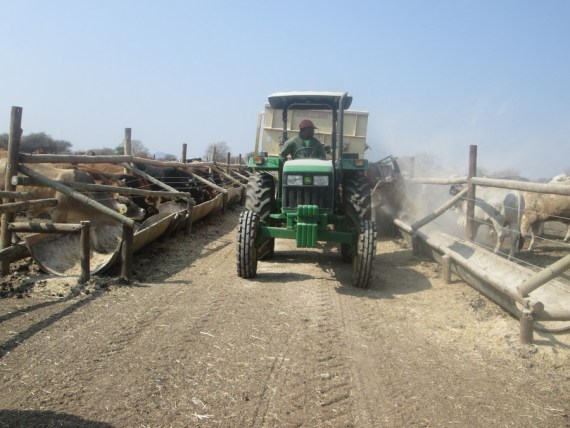 The file photo shows a farm employer distributing feedlot feeds for cattle in Mmamashia village, about 15 kilometers north of Gaborone, Botswana, Sept. 19, 2015. (Xinhua/Sharon Tshipa)
This underscores the necessity for all countries to shift their approach and increase funding for research and development, he added.
The government of Botswana has initiated various projects to transform the agriculture sector, create employment opportunities, and sustain the livelihoods of the people in rural areas who rely directly and indirectly on agriculture. These initiatives include breeding and disseminating high-quality livestock breeds to farmers and employing assisted reproductive technologies to enhance livestock quality.
The conference, themed "Sustainable African Animal Agriculture: Challenges and Future Prospects," takes place every four years to provide a platform for animal science professionals and the farming community to stay informed about the latest developments in animal agriculture. ■