By Xinhua
BUTALEJA, Uganda, Aug. 28 (Xinhua) — When the day breaks, farmers like Fazila Munaba rush to tend to the green rice paddies in the district of Butaleja, about 250 km east of Kampala, Uganda's capital.
The area is dubbed as the country's rice hub and even for the East African region, and the production of paddy rice has been the main source of income for rice farmers for generations.
"I have studied up to university through rice. My parents are cultivating rice and am also cultivating. It has helped me to build a house, to educate my children in good schools. My neighbors are also able to take their children to school, so I feel rice is very important to the people of this area," Munaba told Xinhua in a recent interview.
China is a key factor in the story of rice growing in Butaleja, and local communities attest to this collaboration. The partnership dates back to 1973 and 1987 when China established the Kibimba and Doho rice schemes, respectively.
Back then rice growing was introduced in the country to boost the country's food security. Chinese experts passed on their knowledge and skills to the locals on how to grow the crop that has become the staple food in urban areas.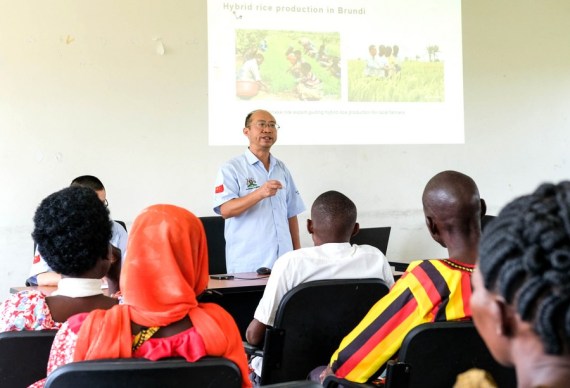 Chinese expert Luo Zhongping (C) speaks to rice farmers during a farmers' training session in Butaleja, eastern Uganda, on Aug. 15, 2023. (Photo by Hajarah Nalwadda/Xinhua)
Years on, through the South-South cooperation framework, Uganda, China and the UN Food and Agriculture Organization (FAO) are implementing the third phase of an agriculture project aimed at boosting agriculture production and fighting poverty.
A group of Chinese experts under the cooperation framework have been stationed here to pass on skills to the farmers directly as they tend to their fields.
Luo Zhongping, a Chinese expert, told Xinhua that they have established demonstration spots in Butaleja where farmers are trained how to grow rice, right from the nursery beds to maturity. He said using appropriate technology that they pass on to the farmers, there can be improved yields and eventually increased food security and household incomes when the rice is sold.
"We support farmers on how to use Chinese technology to produce hybrid rice and then get high yields which can increase household income," Luo said, shortly after a training session with more than 50 rice farmers.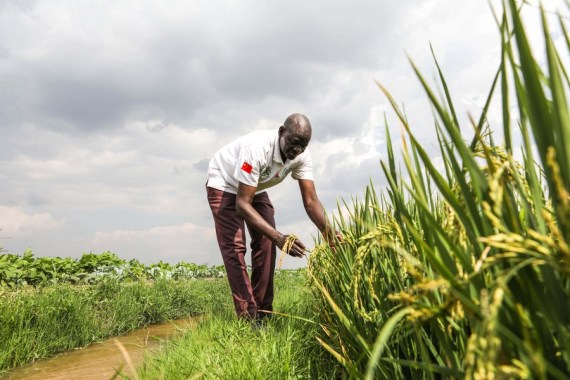 Robert Sagura, a rice farmer, shows a hybrid rice farm during a field visit at Doho II rice experimental farm in Butaleja, eastern Uganda, on Aug. 15, 2023. (Photo by Hajarah Nalwadda/Xinhua)
Robert Sagura, a renowned rice farmer in the district, said several farmers have been exposed to new technologies and varieties from Chinese experts, which has led to increased production.
"I had an opportunity to have great skills in good agronomical practices in growing rice, especially from our Chinese experts," Sagura said, noting that some local farmers have even become trainers or agents for others using the know-how they have acquired from the Chinese experts.
Through the FAO-China-Uganda South-South cooperation program, experts have introduced high-yielding cereal varieties. In mid-year 2023, both Ugandan and Chinese scientists rolled out new high-yielding and drought-resistant rice to boost farmers' production. The new hybrid rice, WDR-73, was developed by China's Shanghai Agro-Biological Gene Center in collaboration with Uganda's state-owned National Agricultural Research Organization.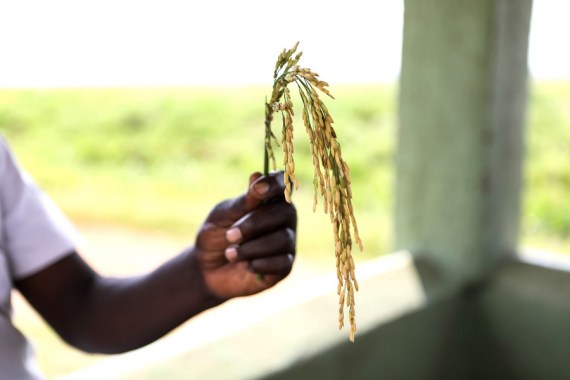 This photo taken on Aug. 15, 2023, shows a hybrid rice sample at a rice farm in Butaleja, eastern Uganda. (Photo by Hajarah Nalwadda/Xinhua)
According to the FAO, the new hybrid rice, which is water-saving and drought-resistance compared to the irrigated paddy and traditional upland rice varieties, has the potential to boost yields by about 30 percent compared to locally grown varieties, said Charles Owach, the assistant FAO representative in Uganda, quoted by a Ugandan mainstream media report in June.
"We are grateful that in phase three, they have introduced WDR-73. Through this variety, we are expecting high yields. It has a potential of getting about 4.5 tonnes per acre (0.41 hectars) per season," Sagura said.
Even the previous hybrid varieties that were introduced by the Chinese have produced tangible results that have increased household incomes.
The latest cooperation between Butaleja and China is China's donation of machinery to further modernize rice growing in the district. The equipment donated in June this year included 11 tractors with a trailer, boom sprayer and seed planter each.
The tractors and the machines are expected to help farmers send their finished products to the market. ■