By Xinhua
BEIJING, Aug. 23 (Xinhua) — Cooperation among BRICS countries and others is crucial for "a better outcome in the achievement of the Sustainable Development Goals (SDGs) agenda by 2030," said a Food and Agriculture Organization (FAO) official.
In a recent interview with Xinhua, Carlos Watson, representative of FAO of the United Nations in China, emphasized the importance of BRICS as a crucial platform for South-South cooperation (SSC), adding that "China is in the front line of supporting developing countries to achieve their own development goals."
With a quarter of the global GDP and up to 42 percent of the world's population, BRICS continues attracting other countries. He said that ensuring cooperation among these countries is vital for achieving the SDGs on time.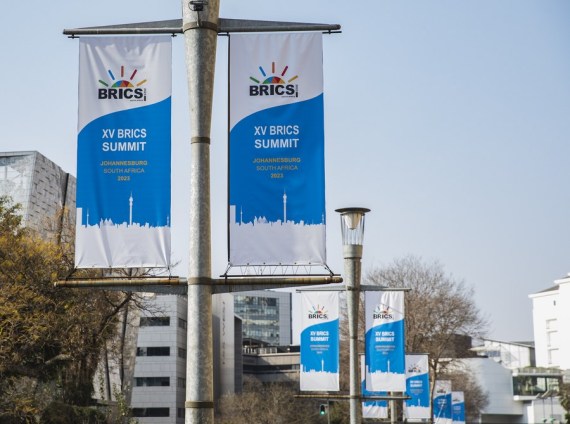 This photo taken on Aug. 21, 2023 shows a view near the venue of the 15th BRICS Summit in Johannesburg, South Africa. The 15th BRICS Summit is scheduled to be held from Tuesday to Thursday in South Africa. (Xinhua/Zhang Yudong)
Saluting the ongoing 15th BRICS Summit in Johannesburg, South Africa, Watson underscored the "pivotal role" of SSC in accelerating progress towards the achievement of the SDGs, describing it as "an important means of enhancing access to science, technology and innovation, knowledge sharing as well as capacity building."
"In the agriculture sector, this cooperation between and among countries of the Global South can act as a key delivery modality to catalyze agricultural development, food and nutrition security, rural development and poverty reduction," he said.
He noted an example promoting hybrid rice in Madagascar, Uganda and other African countries within the framework of the FAO-China SSC project. "The yields have dramatically increased in these countries, providing a higher income for smallholders. In total, this program in Africa has improved the lives directly and indirectly of about 1 million people."
China is on the front line of supporting developing countries to achieve their own development goals. It is uniquely positioned to engage in South-South technical exchanges and knowledge-sharing initiatives, said Watson, who has worked in China since February 2021.
Impressed by China's development, "who has set the world an example by alleviating absolute poverty in 2020, 10 years ahead of the global agenda," he noted that "with a wealth of development solutions, knowledge, technologies, experiences, best practices and resources, accumulated during its rapid development process, China has a lot to offer in supporting sustainable agriculture development and food security in other developing countries."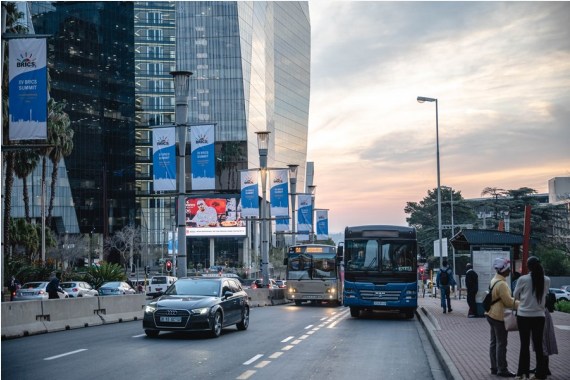 Signboards of the 15th BRICS summit are seen on a street of Johannesburg, South Africa, Aug. 17, 2023. (Xinhua/Wang Guansen)
Highlighting China's contribution to global food security, which is "listed as one of the eight priority areas of cooperation," he stressed that "the China-proposed Belt and Road Initiative contributes to achieving the sustainable development goals, addressing the needs of millions of farmers and fisherfolk in the countries involved."
In 2021, China proposed the Global Development Initiative, which seeks to promote international cooperation in eight priority areas: poverty reduction, food security, COVID-19 and vaccines, financing for development, climate change and green development, industrialization, digital economy and connectivity.
FAO expects China to play a more significant role in attaining all the agriculture-related SDGs in the country, in the region and worldwide, Watson said. ■